Central Europe
Countries Included: Austria, Czech Republic, Germany, Hungary, Poland, Liechtenstein, Slovenia, Slovakia, Switzerland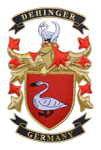 Sample Coat of Arms for Central Europe
In the 17th Century, one of the most poignant battles in Europe took place, called the Battle of Vienna. For over 300 years, there were major religious struggles between the European Kingdom and the Ottoman Empire. The Turks moved into Central Europe, led by Grand Vizier Kara Mustafa.

A combination of Europeans, including: Polish, German, and Austrian forces opposed Mustafa and his army moving into their territory. Jan Sobieski led the Europeans to take back control. In August of 1683, after King Michal Wisniowiecki died, Sobieski was elected King of Poland.

Before his predecessor died, he signed a Treaty of Warsaw, which was an agreement that Poland would come to Vienna's aid if the Turks attacked. The Turks held several thousand Austrians captive, and King Jan Sobieski planned his attack for September 12, 1683.

He moved into Vienna at the wee hours of the morning, with an army of 30,000 men and surprise attacked the Turks. Many of Mustafa's army fled the territory immediately, and battles ensued in the days following until the Turks finally retreated entirely. King Jan Sobieski was revered in Vienna as a savior and this victory essentially marked Christianity as the main religion in Europe.


Another well known area of Central Europe was the Kingdom of Prussia. This was a German kingdom from 1701 to 1918 and, from 1871 until the defeat of Germany in World War I, was the leading state of the German Empire, comprising almost two-thirds of the area of the empire. One of Prussia's most influential leaders was Frederick II, also known as Frederick the Great. Frederick frequently led his military forces personally and had six horses shot from under him during battle. Frederick is often admired as one of the greatest tactical geniuses of all time. Even more important were his operational successes, such as preventing the unification of larger opposing armies and being at the right place at the right time to keep enemy armies out of Prussian core territory.
Financing available, call 800-868-9405