Eastern Europe
Countries Included: Lithuania, Ukraine, Yugoslavia, Estonia, Serbia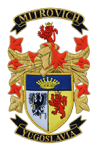 Sample Coat of Arms for Eastern Europe
King Solomon was a very popular leader in Israel. He carried out his father's dream of creating the Holy Temple in Jerusalem in 967 BCE. However, the Holy Temple was destroyed by an attack from the Babylonians in 586 BCE.

They rebuilt the temple and had to fight back from another attack in 70CE, but this time by the Romans, and lost the battle again, which destroyed the second temple.

During the time frame of 66-73 CE, the Romans killed all the Jewish leaders and they either enslaved or killed the remaining Jewish civilians with their army of 60,000. This battle was called the Great Revolt. Around 1 million Jews lost their lives in the 4 year battle.


Financing available, call 800-868-9405