Nothern Europe
Countries Included: Norway, Finland, Sweden, Iceland, Denmark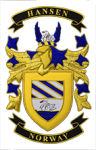 Sample Coat of Arms for Northern Europe
A period from the early 790s through 1066 in Europe was called the Viking Age.

Vikings were Scandinavian warrior pirates and explorers that formed during the medieval days. They planned strategic sword attacks in Europe on sea and land. Vikings were very influential over Europe at this time and many were settled in Normandy, a region in Northern France, because it was thought by the French King that it would end the various and many attacks going on throughout France by Vikings. The Norman invasion, a military battle over the throne of England between late King Edwards' second in command, Harold Godwinson, and his Cousin, Harald III of Norway, marked the end of the Viking Age in 1066.

During this invasion, many lives were lost, but ultimately England gained control over the throne that would stay in English rule ever since. According to Norse law, during this period, all men were required to possess weapons (Nordic swords), and carry them on their person at all times. An affluent Viking would have a helmet, shield, and a Nordic sword.
Financing available, call 800-868-9405