Russia
Countries Included: Russia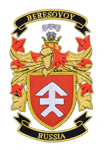 Sample Coat of Arms for Russia
In 1672, one of the most influential rulers of Russia was born. Peter the Great (as he named himself in his later years) transformed Russia from a society into an empire. When he was 10 years old, he was crowned Tsar of Russia, but he had to dually rule with his brother Ivan, under the designated watch of their sister Sophia. Ivan died in 1696 and Peter exiled Sophia, and continued to rule on his own. His nickname was also fitting with his physical stature; he stood very broad at 6 feet, 8 inches tall.

In 1700, he started the Northern War with Sweden, where he fought for 21 years to gain access to the Baltic Sea for trading. During that time, he discovered St. Petersburg and also sent hundreds of Russians to Europe to learn a trade, such as, shipbuilding, architecture, or other crafts. The war finally ended successfully in Russia's favor in 1721 and Peter regarded himself an emperor.

During the next few years, Peter reformed the Russian government and created the Russian Navy and Army. He also dominated church and state. He was known to be a cruel and harsh leader. He even sentenced his own son, Alexei, to prison for allegedly plotting against him. He died in 1725 and there are many memorials to Peter the Great all over Russia, but the most famed would be the Bronze Horseman statue in St. Petersburg, where he is pictured on his horse with his special sword.


Financing available, call 800-868-9405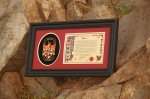 The Single Embroidery Set comes complete with a family name history and embroidered coat of arms framed together. Your family name [...]
9 payments of $63.00
More Info »