Southern Europe
Countries Included: Italy, Croatia, Belgrade, Greece, Spain, Portugal, Cyprus, Malta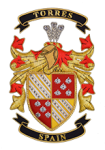 Sample Coat of Arms for Southern Europe
The Romans were intensely militaristic. In 264 BCE, when the Roman Empire was in full swing, Julius Caesar started the gladiatorial games in Rome.

For the next 600 years, Rome continued to fill arenas with thousands of people to watch gladiators battle against one another or against ferocious animals. These duels were very violent and bloody, and they usually didn't end until someone was killed. These displays of combat were highly regarded amongst Roman citizens and the victorious gladiators achieved celebrity status with the Romans.

The word gladiator stems from the Latin word-meaning swordsman. These extreme battlers were mostly made up of slaves and prisoners that were trained for this purpose. There were also gladiator-training schools for boys called Ludi that would grow up to be fighters. The gladiators were paid after each fight, and if he outlived his opponents for a total of 5 years, then he would be set free. Gladiators wore armor, but different than the Roman soldiers of that time (who were of higher status). The gladiatorial games finally ended in 404 AD, after thousands of lives were lost in these fights.


Financing available, call 800-868-9405